This winter has seen Scott on the snow almost more than in the water, thanks to a relatively slow surf season.
No worries, the mountains are a short drive away and there are plenty of friends in them.
During a long full weekend, Scott managed to shoot this month's Get the Girls Out event at Alyeska Resort in Girdwood, Alaska. Get the Girls Out is part of a campaign hosted by SheJumps.org, a non-profit dedicated to increasing female participation in outdoor sports.
While this girl did not get out (this time) I did enjoy all of the big smiles and bright colors of these ladies making the most of a (slightly) less than spectacular day on the mountain.
Want more of the action? See the SDP SheJumps Get the Girls Out Alyeska Gallery here. Also check out this video of the day made by JGS Concepts:
http://www.youtube.com/watch?v=NyoqtMUSsGc
How much fun was that?
We think SheJumps.org (co-founded by our friend and big mountain skier Lynsey Dyer) is a great organization and Scott had a lot of fun shooting these ladies having fun. Do you have an event or organization that is needing photography? Are you a videographer needing stills for your shoot? If the subject is fitting for Scott's style and the photos can be model released, Scott Dickerson Photography might be your answer. This is a great way for you to get high quality photography and we gain some photos for our stock galleries. Win-Win.
Yay!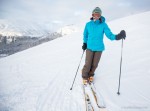 On a final note here is a shot of me from the last time I got out on (downhill) skis. Don't you think I would look better surrounded by a pack of  fun, friendly and supportive ladies? Oh, and wearing a tutu?
~Stephanie