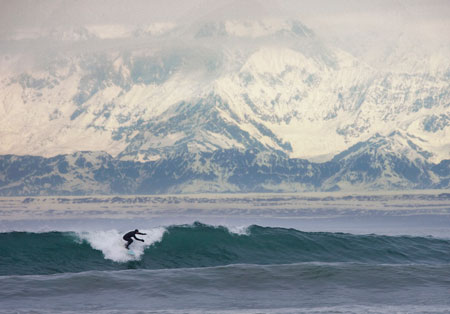 Surf in my Alaskan hometown is a seasonal event. Seven months of the year our surfboards would sit collecting dust if we chose to sit and wait for the weather patterns to shift and the swells to surge our way again. This spring with a long summer of no surf approaching, I was excited to get the call from Don (a.k.a. Iceman)-  Alaska Airlines is having a sale . . surf trip to Yakutat at the end of May!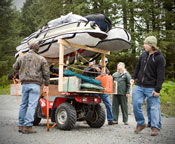 Some creative thinking brought about a plan to send Iceman's four wheeler down to Yakutat on the Alaska marine highway ferry with our 12 surfboards. The 10 of us would follow along a week later in the jet. This worked out great, saving us hundreds of dollars in excess baggage charges and as a major bonus we had a beach buggy waiting for us in Yakutat. Iceman put his carpentry to work and slammed together an African-safari style rack for the wheeler that made it possible to put all those boards on the poor thing and still drive it onto the ferry.We were very excited when we found the four wheeler in Yakutat still upright despite it's top heaviness from all our surfboards on the surf-safari rack.
Once in Yakutat we rented a suburban, piled in as many surfers as would fit, then crammed a couple more in, then exhaled all together and slammed the doors. Thirty painful minutes, and 30,000+ jarring potholes later we burst from the suburban at our beachside resort  a soggy stand of trees with a nice spongy undergrowth of moss.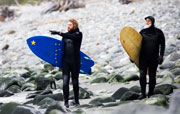 We later learned that notoriously rainy Yakutat had actually broken a rainfall record the day before our arrival. The next couple hours were spent trying to find dry wood for a fire, before we finally gave up and used the four wheeler gas instead. With our domestic chores out of the way, we scrambled into our wetsuits, waxed our surfboards, and headed for the water.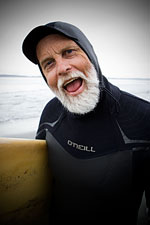 So began a four day surfing marathon. I am still in shock at the amount of surfing a few mid-fifty year old diehards can do. Of course, they may credit it to the handfuls of anti-inflammatories they would eat for desert each night, but pills and whiskey aside, that was still astounding feat of surfing dedication. There must be something about Alaskan surfers and the challenges that they must overcome to surf the last frontier that drives them to another level of addiction. I used my photography excuse to take rest breaks on several occasions while my surfing buddies/models just kept going, and going, and then it would get too dark to photograph, and they are still surfing. This is really saying something during an Alaskan summer where the sun doesn't even set until after 10pm.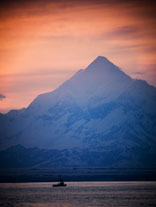 The surf was great for our entire stay, each day the wave faces shifted between chest high to a few feet overhead depending on the stage of the tide. We felt fortunate with very little rain and even some sunshine during our stay. The views of Mt. St. Elias were few and fleeting, but I did manage to get a couple photographs of it one gorgeous evening as we walked the beach to our campsite at sunset.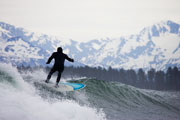 For most of us, this was our first surfing trip to Yakutat, but I doubt it will be the last. Everyone had a great time, and I don't think I'm alone looking forward to the next time the phone rings and Iceman says Pack your bags, Surf trip to Yakutat- Yahooo!
If you have your own story to tell or questions about surfing in Yakutat (or Alaska in general) leave a comment below.
To see images from the trip – click here for a Surfing Yakutat, Alaska photo gallery.