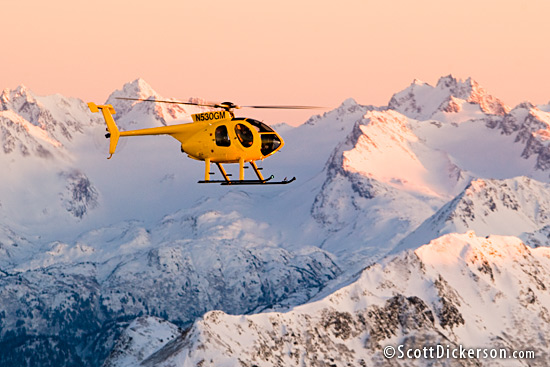 I remember walking out of the post office and looking up to catch just a glimpse of the small yellow helicopter zipping by overhead. For the months since, anytime I've heard the beating of helicopter rotors I jump up and scurry to the windows with binoculars. This little fixation started before the MD 530 came to town, and it's not just limited to helicopters. I love flying, and not surprisingly, some of this passion for flight splashed onto the machines that make it possible. I think it's well understood that I'm always very excited by the opportunity to create aerial photographs. This particular shoot was a real treat being able to watch and photograph this incredible helicopter in flight. Special thanks to George and Charlie Mandes for working with me to make this a reality.  As an aerial photographer I'm very dependent on the pilots to help bring all the pieces together into a photograph.  As you can see, they both did a great job.
Ingredient list for a big smile and some exciting aerial photos:
One fan of flight
One passionate photographer
Two skilled pilots with good communication
One beautiful winter sunset with mountains and alpenglow
Two cameras
One aircraft with opening windows (Husky A-1B)
One aircraft to model (MD 530F)
Toss the ingredients for approximately 45 minutes. More results displayed below.