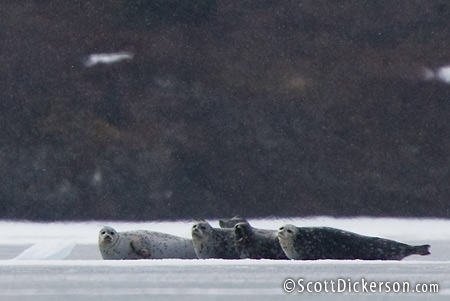 It's true!
Iliamna Lake is home to one of two known freshwater seal colonies in the world. The only other documented seals living in freshwater are in Lake Baikal, Russia.
Update: Since posting I've found reference to two other unique seals living in freshwater – Ladoga Seal and the Saimaa Ringed Seal. Commenters (see below) have also claimed there are many more instances of seals living in freshwater including a small colony in Lac des Loups Marins, Northern Quebec.
The photo above was taken on March 9th as I lay on the ice of Iliamna Lake with several friends, excited to finally be seeing with our own eyes these mysterious seals. To the locals living on the shores of Iliama Lake this photo will come as no surprise, the seals have been companions for generations.
Despite their long history of inhabiting Iliamna Lake, very little is known about these rare freshwater seals. Many people I've spoken with have heard of them but too many questions have gone unanswered. After discussing it for a couple years, several friends and I made an expedition to Iliamna Lake to document that the freshwater seals do in fact spend their winters there. It has been common knowledge that the seals live in the lake during the summer months, but many we spoke with assumed that as winter approached the seals swam back down the Kvichak River that drains Iliamna Lake into Bristol Bay.
Stay tuned for more photos and information about the freshwater seals of Iliamna Lake. This is just the beginning of our efforts to document these seals and their lives in the often icy waters of Iliamna Lake.
A few facts about Iliamna Lake: 1,000 sq mi (2,590 sq km), 75 mi (121 km) long and up to 22 mi (35 km) wide, SW Alaska, at the base of the Alaska Peninsula. It is fed by many lakes and streams; the Kvichak River drains it SW into Bristol Bay. The lake is an integral part of the largest remaining wild sockeye salmon runs in the world, it is also downstream from the site of the proposed pebble mine, which if developed would include the largest dam in the world to hold back the toxic waste created in the hard rock mining process.