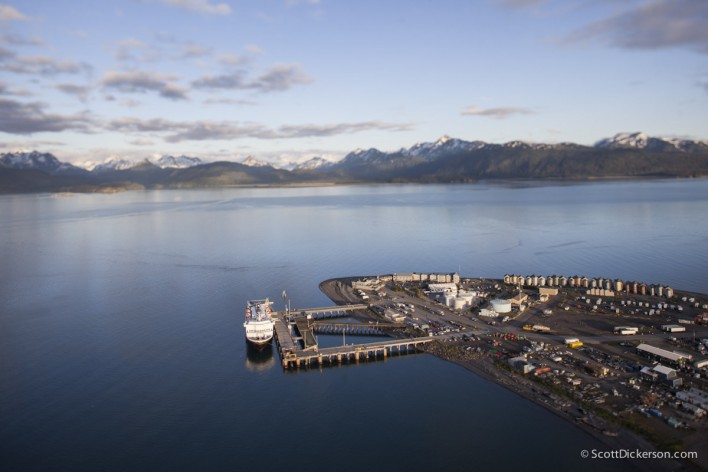 Over the last couple years I've been occasionally experimenting shooting aerials with a Tilt-shift lens. The purpose has been to play with the depth of field (selective focus or blurred areas)which is often disregarded in aerial photography due to the distance between the camera and subject making it very difficult to achieve with normal lenses. Tilt-shift lenses are often used to create an effect called 'miniature faking' or the 'diorama effect'. I've been somewhat on the fence as to whether this is a passing gimmick kind of thing, or really something artistic. Either way, it's fun to play with and certainly brings some new inspiration to photographing familiar scenes. My application of the diorama effect has been pretty light really, with most of the resulting images having a pretty subtle effect for the most part.
Wikipedia has a surprising wealth of information about tilt-shift photography, miniature faking, the diorama effect, and how it is created both optically and digitally. For the tilt-shift photos below I have been capturing them optically with a canon 24mm TS-E lens.
Diorama effect or "diorama illusion" is a process in which a photograph of a life-size location or object is made to look like a photograph of a miniature scale model. Blurring parts of the photo simulates the shallow depth of field normally encountered in close-up photography, making the scene seem much smaller than it actually is; the blurring can be done either optically when the photograph is taken, or by digital postprocessing. Many diorama effect photographs are taken from a high angle to simulate the effect of looking down on a miniature.
After reading more about the process on Wikipedia I'm curious to try creating the effect digitally on some of my aerial photos. Until then, here are a few shots from a recent paramotor aerial photoshoot here in Homer Alaska. It had been a while since I've flown so I played it safe and hung around familiar territory. The Alaska Marine Highway Ferr f/v Kennicott was in port as you can see.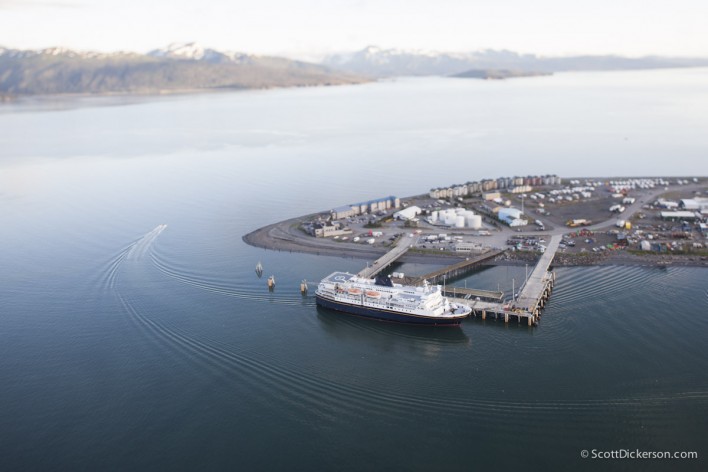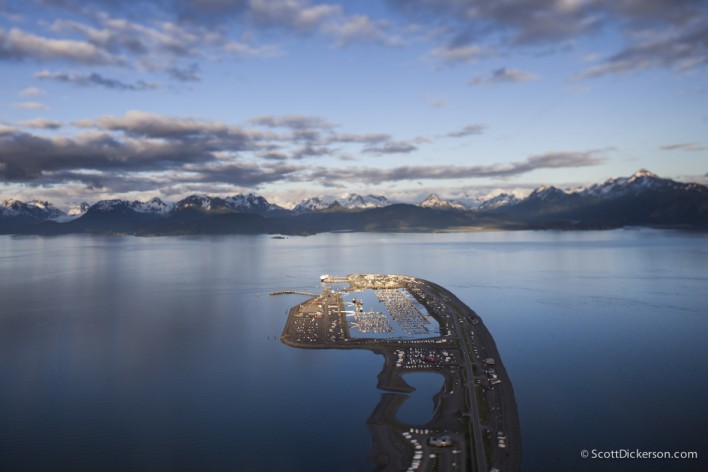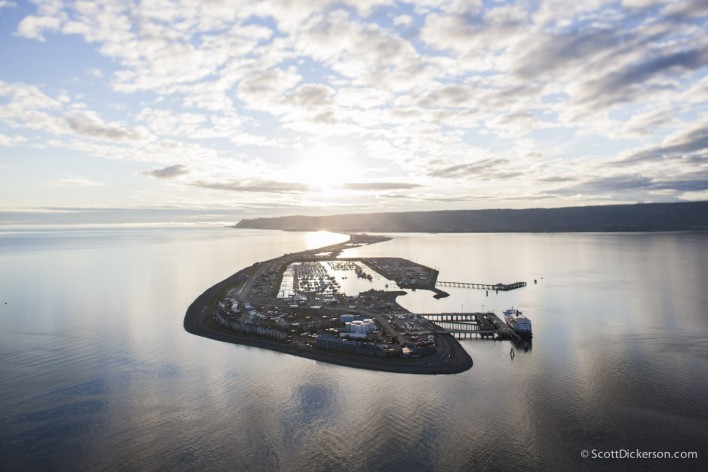 You can read more about the contraption that I'm flying to take these photos you can check out this blog post – Aerial photography from a paramotor. Some people have wondered specifically how I carry my camera with me. It's actually been vey easy using a Lowepro toploader AW 75 camera bag with the chest harness system to keeping the bag in the most convenient location. The bag is big enough to hold a full size DSLR and a 70-200mm 2.8 lens attached, and easily holds a camera and two small lenses. The only troubles I've had have been when I forgot to connect one of the harness straps on two different occasions – both times the strap eventually made it's way back into the propeller and after a bit of a racket and tugging I figured out what was going on. Weight is a serious consideration for a paramotor pilot so I'm usually taking only the absolute necessary equipment. Just a single camera and lens with a spare battery and a spare memory card. I also keep a couple of small survival items in my bag or pockets in case I am not able to land where planned. . .