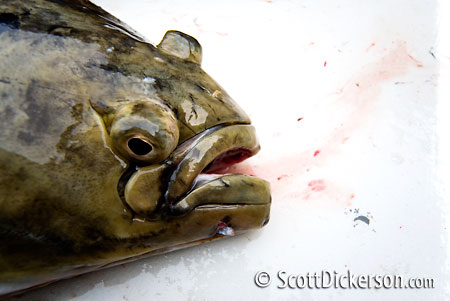 Let me tell you something about my hometown Homer, Alaska– it's called the "Halibut Capital of the World." I'm not sure if it's confirmed, but the title came from claims that more dead halibut are brought through the boat harbor in Homer than any other port in the world. We are good at catching them, but an art director at Alaska Magazine told me a couple years ago that we were not doing very good at photographing them. His magazine was having trouble finding any fresh and catchy images of sport fishing for halibut. This is a bit of a surprise since well over half of the visitors to our tourist based town are here just for the halibut. You'd think we would be creating a glut of photographs of this big but fishing attraction!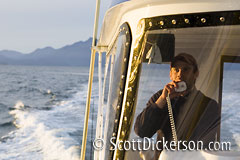 This freelance photographer took the wise words of advice and made plans; plans to do something lively with the subject of killing fish. They say if you want to do it right, get professional help. Fortunately, I have several friends who have made it their profession to catch halibut by operating fishing charters out of Homer. This connection made organizing this photo shoot a cinch. In September I spent a day out on lovely Kachemak Bay with David Bayes, captain of the 'Grand Aleutian' and owner of Deep Strike AK fishing charter company.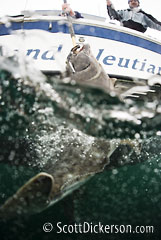 The goal of this photo shoot was the same as basically every other assignment– take an old subject that has been photographed a thousand times and make it look new and exciting. The shot that I dreamed up was a split view perspective (half under water, half above) with a big halibut being pulled out of the water onto the fishing boat framed by the dark depths of the ocean below and the smiling faces of the thrilled fisherman above. I have a 'surf housing' in my gear closet that I use to photograph those crazies surfing in Alaska. I'll keep this short by saying that I learned a lot about photographing split view perspectives in the open ocean with one foot waves and about a 3mph current flowing past the boat. Next time I'll try for some professional help with the weather forecasting. Despite the challenges, I am excited to share some of my favorite photos from this adventure with you. While I didn't manage to get the perfect photo I was hoping for, I came much closer than I thought possible as I bounced around in the water being jerked constantly from the rope that kept me tied to the boat. The fish gave their lives for the photos, and the models were patient as I gurgled about how next time I'm bringing a snorkel and calmer seas.

The photo gallery, Halibut fishing in Homer, Alaska, has a few other nice photos of details around the boat and a grip-n-grin photo of Ethan Waldvogel holding up a 150lb halibut. Oh, and I should tell you that I ended up bringing home 100lbs of fresh halibut from this photo shoot. In New York City this would be over worth over $2,000! How much did it cost me? Well, the vacuum bagging and freezing at Coal Point Seafood Company was $1/lb so I had to cough up $100. How much did I make from this photo shoot? well, nothing yet. . . Want to buy some photos of halibut fishing? They are fresh and catchy, just like it was floating around in 47 degree water behind the 'Grand Aleutian' last month as they reeled in the halibut.