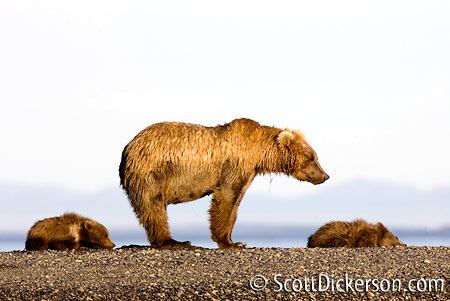 You haven't heard from me for a while here, and for good reason. Fall in Alaska is my favorite time of year for just plain enjoying the wilderness as well as shooting photos. Fortunately there has been plenty of both this season. I recently returned from a week long trip out to the Iliamna Lake region in a Piper Super Cub, and now my bags are packed for another week long adventure, but this time I'll be staying on a boat with 6 friends and Mike Coates of Alaska Excursion Adventures. I'll tell stories in the winter.
I decided to put together a post highlighting one of the many photo shoots from the last couple months. Because it was the first folder I opened, I've chosen a photo shoot I did with Homer Air on August 12th. The following are a few shots from this assignment that caught my eye.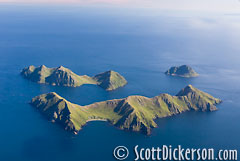 Our photo shoot started with a flight in a Cessna 206 from Homer across Cook Inlet to Hallo Bay in the Katmai National Park on the Alaska Peninsula. This aerial photo of the Barren Islands was taken as we crossed Cook Inlet. Though they are often surrounded by stormy seas, the islands look rather inviting here. Plenty of birds find them appealing also, East Amatuli (top left) is home to one of the Gulf of Alaska's largest populations of nesting seabirds.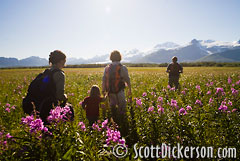 Our pilot landed the airplane on the beach in Hallo Bay where we hiked out into the fireweed looking for Brown bears that feed on sedge grass and salmon. Hallo Bay is a striking setting, surrounded by the mountains and glaciers of the Aleutian Range. The air was very still the during our visit and the heat of the mid August sun was too much for this Alaskan boy.

One of Homer Air's offerings is overnight 'air-trekking' adventures, so the shot list included a tent on the beach with the aircraft. We had just enough light left in the day after photographing the bears to get the shot of the tent and airplane, as well as a few camping lifestyle images.

Once the sun went behind the mountains, we piled back in the Cessna and climbed to an altitude where the sun was still shining (gotta love that trick). The aerial photo at left shows three active volcanoes lined up: Mt. Douglas, Augustine Volcano, and Mt. Iliamna. Augustine has been very active lately with major eruption events in the last couple years. We also made an orbit around Kaguyak Crater allowing a a great opportunity to shoot some aerials of this incredible bit of scenery. Kaguyak crater epitomizes one of my favorite things about Alaska, until this I don't recall that I'd ever even heard of it, if this crater was anywhere else in the US it would likely be the crown jewel of the state. Here in Alaska though, it's just another one of the hundreds of incredible sights waiting to be discovered.
As things wind down into winter I look forward to posting more trip reports, till then I'm going to keep filling memory cards.