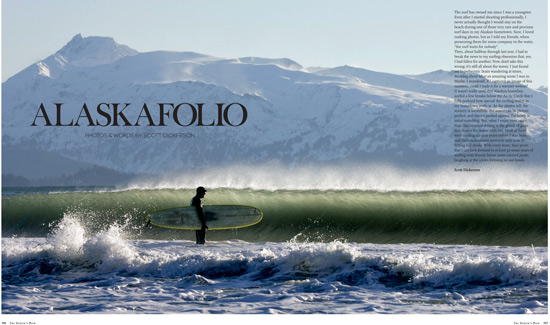 The surf has owned me since I was a youngster. Even after I started photographing professionally I never actually thought I would stay on the beach during one of those very rare and precious surf days in my Alaskan hometown. Sure, I loved making photos, but as I told my friends, when pressuring them for some company in the water, 'the surf waits for nobody.' It was about half way through last year that I had to break the news to my surfing obsession that yes, I had fallen for another. Now don't take this wrong, it's still all about the waves, I just found my hypothermic brain wandering at times, thinking about what an amazing photo I was in. Wondering if I captured an image of this moment, could it be traded for a warmer wetsuit?
The paragraph above introduces the "AlaskaFolio" – an eight page spread that was published in The Surfer's Path issue 65 (March/April 2008). This marks the real debut of my Alaskan surfing photos, and I'm proud to have them released in such a respectable surfing magazine with a strong commitment to environmental sustainability.
I'm eagerly looking forward to more surfing adventures in the 'Last Frontier' and may the excruciating decision of whether to surf or photograph live on!