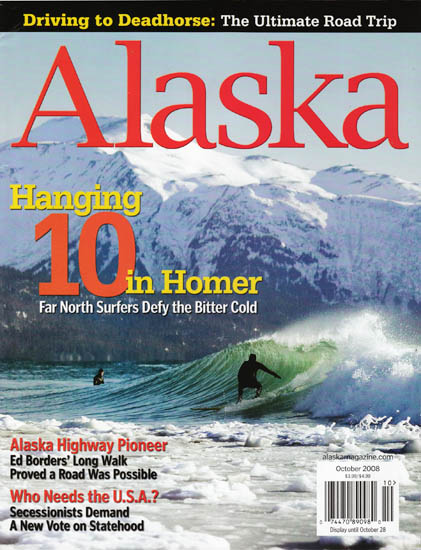 Hot off the press.  This post will be quick since my bags are packed and I'm heading out the door for a week long photography and surfing trip to Yakutat, Alaska. But, I wanted to share this exciting news for Scott Dickerson Photography – The October issue of Alaska Magazine just hit the racks with a cover photo of Mike McCune surfing our local break and inside are two double page spreads, a full page, and a couple smaller photos of our surf scene. The story was written by freelance writer Jody Ellis-Knapp.
Most of the photos are from last year when the temps were unusually low and the surf was good. Lots of ice chunks and slush in the breaks. Yakutat will be warm by comparison this week so we are all planning on making the most of that before the winter surf season really gets started at home in Homer.
If you missed it, earlier this year the 'Surfer's Path' ran AlaskaFolio -Alaska surf portfolio.
A big thank you to my Alaskan surfing buddies who not only endure the cold, but also put up with this photographer, all with a smile.