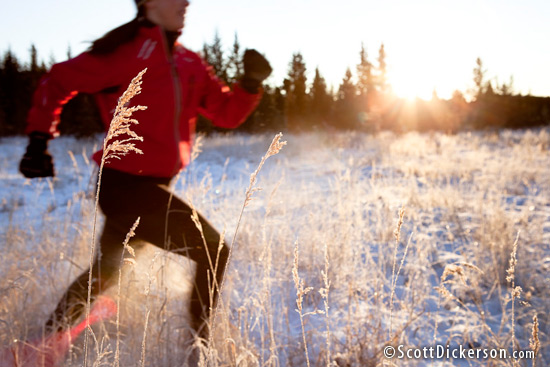 For several months now I've had a photo concept rolling about in my mind.
In words it is something like this: A beautiful image of nature with a secondary element of a person actively engaged in an adventure, fitness, or well being activity. The beauty of nature is the focus, the person is just there enjoying it in a positive way. The motivation for this creative desire comes from my personal love of nature and the adventures enjoyed there. Highlights in my life are usually adventurous moments in inspiring natural settings so this, I suppose, is a way to share that.
Danielle Thompson told me about this beatiful grass field nearby that she had hiked through a few days prior. We went back on a gorgeous December day and she got a nice running workout in and I got to work on this creative concept.  Some of you might recognize this style/concept from one of my favorite photos that I posted in my recent 'passion in photography' entry. The photo of the uncurling fiddleheads with Erika running by certainly caught my fancy and helped form a love for this visual message.
Below are a few more photos from the shoot.