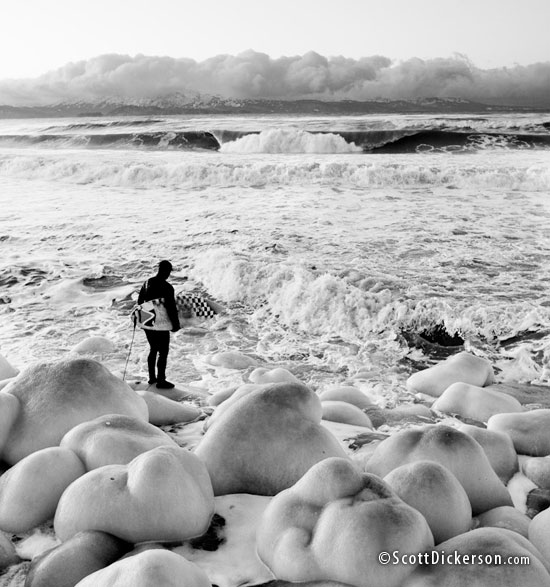 It's ten minutes before midnight, maybe I'm having a case of midnight stoke, but I can't help but share this photo. I jumped on the computer to check email before bed and accidentally glanced over the thumbnails for a recent surf session / photo shoot.  January 5th, 2009. This shot caught my fancy, I hope it does the same for you.
It's been an unusually cold week for our little seaside town with temps dipping below 0º F at night. Fortunately though, with the cold weather came a few great days of surf after Christmas and into the new year giving us surfers something to really celebrate.
Strange things start happening on the beaches when the thermometer drops like this. Take the above photo for an example.  Alaskan surfer, Jake Beaudoin, is standing on what are normally black boulders. Today they look more like marshmellows, however as another surfing buddy pointed out, they are much more slippery than a marshmellow! What seems to be going on here is the receding tide slowly draws the waves away from the very cold rocks and we have what the local fishermen and wethermen call 'Freezing Spray' as the splashing water freezes onto the rocks. And in case you were wondering, yes, this freezing spray does occur on the body of a surfer as well.
There are a lot more photos to share from this last week, and I'm trying to get through editing them. Though today the cold had me distracted searching for a new wood stove…  In the meantime I have some links for the curious:
– See a short gallery of Alaska surfing photos
– or browse a couple hundred Alaska surfing photos from the last couple years at my online archive
– and if you really want more of the scoop on surfing in Alaska visit another site I'm building – SurfAlaska.net.
Stay warm out there.